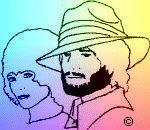 TENNESSEE BIRDTALK - The Guestbook!
6:24am 06-24-2013

Pastor Tom Barnhill

Glad to relocate and connect with you two again. Keep up the great work.
Blessings,

Pastor Tom
<*)))))))><
1:00pm 05-02-2013

Margaret

My brother sends me your news letter. I finally looked at it, and have to say you are a "goodlooking couple"
2:20pm 03-26-2013

Smitty

I Love your columns.
Have you ever been in an airport and had someone yell to you,
"HI, Jack " (?)
best to you & Misty.
Smitty
9:49am 02-24-2013

midgie macon
6:22am 01-01-2013

Jerry D. Withers

HAPPY NEW YEAR... and Happy New Guestbook! And thanks for just being there to our new guestbook hosts, 123guestbook.com!