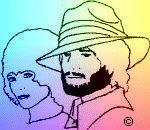 TENNESSEE BIRDTALK - The Guestbook!
5:13am 03-07-2019

Bruce Gruber

That seen and understood, spoken visually with foresight
Is the brilliant light that opens hearts
And makes one cry
11:40pm 06-03-2018

Luke Hardy

I'll be watching yo see if you have any concerts close. I was hoping you had a newsletter.
3:17pm 03-25-2018

Jim Barnes

Jack and Misty........ wow....... saw you first @ Frankie and Johnnie's in Ft. Pierce back in 1971. Many times at other venues, but that first show has always stuck in my mind. I was 11 years old and was kind of, sort of "snuck" into the place by a sweet neighbor lady who was kind to me. Funny, sitting here, writing this, I can taste the Shirley Temple that she ordered for me!
I'm 58 now, with a lot of life behind me - and I still play your tunes often, sharing them with friends, too. I play guitar and sing for friends and family sometimes, and a few of your songs are in my repertoire. Thank you dearly for a lifetime of joy in music - that's straight from the heart, Y'all.
Jim
10:42am 01-14-2018

Suze Garrett

I was checking out your media presence online. So far so good! See you on Facebook!
5:47am 07-27-2017

Beulah Starr

I get the weekly newsletter from Doug Davis and loved your letter to the Music Directors at radio stations. It is so clever. My youngest daughter as a small child was in love with your song Tennessee Birdwalk! I think she wore out 3 or 4 records of it.
Have a blessed day and keep up the great job!
Beulah
3:51am 07-13-2017

Bruce Gruber

Truly inspired poetry rekindles poignant memories, snapshots stored between the pages of life.
8:11am 05-04-2017

Bruce Gruber

You "get it", you've "got it", you "share it"! Thank you.
12:13pm 03-06-2017

John Riggs

Dear Jack and Misty,

I read the story that was in Doug Davis's newsletter and I was glad to know that you were still in the music business one way or the other. I worked at WSM Radio with Ralph Emery in the 70's and I remember liking that unusual song. We played your record "Tennessee Birdwalk" many times. Keep up the good work. John Riggs
12:27pm 02-09-2017

Karl A DAccursio

I have been a big fan of yours since I was seven years old back in 1974. I performed the "Tennessee Bird Walk" with my mom in my 3rd grade talent show. We actually met once back in 1983. You were in Upstate NY at a Mall near Rochester. I saw your RV in the parking lot and sought out to find you in the mall. I found you both in Woolworth's and introduced myself. You both were so nice to me. In 1983, there were no smart phones and people didn't carry cameras around all the time so we shared some laughs and wished each other well.
I was telling a co-worker this story today and decided to look you up. To my surprise, I found your website and learned that you are here in Florida where I relocated to in 1999. I am glad to see you are still out there performing and entertaining. Best wishes to you both.

Your Adoring Fan. Karl A. D'Accursio

North Port, FL
3:18am 09-24-2016

H Hinson

"Tennessee Bird Walk" was the first 45 I ever owned. I was six years old. Hearing it feels like running into an old friend that I haven't seen in years. Much love to you.
1:11pm 06-03-2016

Keith Roman

I have so many wonderful Memories of seeing you both at clubs all around Orlando.
I own a children's book publishing company.
If I can be of any help to you just let me know.
We are never too young or too old to follow our dreams.
4:58pm 01-07-2016

Bruce

Awesome harmony, wonderful songs. Somewhere In Virginia has always been one of my favorite songs of any type, but all of your stuff is top notch.
2:27am 12-03-2015

Alan Clayton

Just had to sign this book. Absolutely love your music.
12:42am 02-09-2015

Richard C Skola

I have been enjoying getting to know you better through reading your FB comments, and seeing your pictures. Sorry I missed your Utah show. I didn't even know about it until I watched the Dick Clark interview on YT. Sad to hear about the passing of Weldon Myrick to.. I was blessed to have lived in a time when so many of the all time greats walked among us.
8:50pm 02-08-2015

David

I clicked once and here I am.
I've tried for a long time to buy more of your songs, LPs & 45s, so I thought I'd try some CDs.
Thanks for all your great stories, wonderful songs, sharing Misty and the late night laughs.
David in Wyoming or as I sometimes sign off "David in WYO, WYO, did I ever leave Ohio ?"