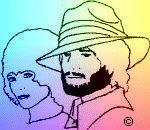 TENNESSEE BIRDTALK - The Guestbook!
2:20pm 03-26-2013

I Love your columns.
Have you ever been in an airport and had someone yell to you,
"HI, Jack " (?)
best to you & Misty.
Smitty
9:49am 02-24-2013
6:22am 01-01-2013

HAPPY NEW YEAR... and Happy New Guestbook! And thanks for just being there to our new guestbook hosts, 123guestbook.com!